"DENN (Industrias Puigjaner, S.A.), founded 1885; over 130 years of building metal forming machine tools."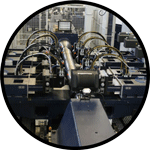 DENN: Innovation & Experience in Metalforming
standard to fully custom machines
modern, fast, safe & flexible
reliable construction & components
custom & user-friendly software
superb surface finishes
superb repeatability
DENN Custom Chipless Metal Forming Machines, and Research & Development
Our R & D and sales departments would be happy to take a look at your custom metal forming applications requirements and suggest production solutions and machinery to you.
Machinery is available for prototyping and testing out new production methods.
Please send us your part prints and we'll be happy to work with you on a metal forming solution.
Some of the metal forming methods used on our offered machinery include: metal spinning, shear forming, flow forming, internal spinning, hot metal spinning, spinning on air, expanding, flanging, internal flanging, beading, trimming, edge setting, necking in, closing, reducing, swaging, profiling, splitting, folding, curling, ribbing, lock-seaming, parting off, machining, groove turning, groove forming, thread rolling, rotary forging and additional related methods.
Hot forming, flood cooling and special tooling can easily be added to all our metal spinning, flow forming and related forming machinery.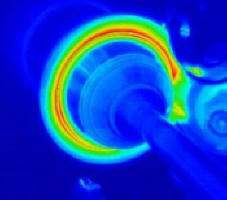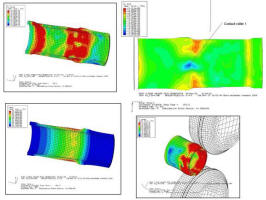 DENN custom Roll Knurling Machine