"DENN (Industrias Puigjaner, S.A.), founded 1885; over 135 years of building metal forming machine tools."

DENN: Innovation & Experience in Metalforming
standard to fully custom machines
modern, fast, safe & flexible
reliable construction & components
custom & user-friendly software
superb surface finishes
superb repeatability
DENN data – Metalforming in the cloud
Welcome to DENN data, the cloud service to boost your metalforming projects. Improve your productivity by using cloud monitoring. DENN data calculates productivity and helps to improve metalforming processes. To be updated has never been easier: Alarms, Forces (Traces), Energy Consumption and more are automatically and seamlessly analyzed. Export process data. Proactive maintenance; sensors are installed in the machines to warn about potential or upcoming problems.
More information and sign in link for your machines: CLICK HERE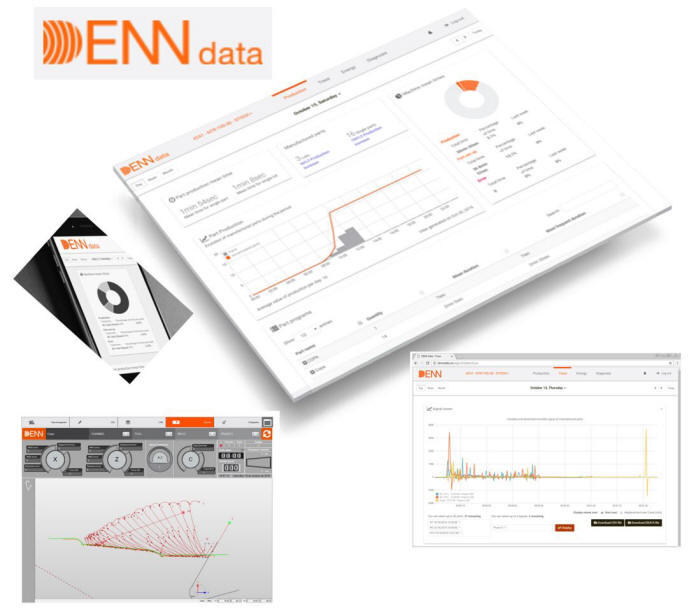 Industry 4.0, Industrial Internet of Things (IIoT)
DENN metal spinning & flow forming machinery is the ideal solution for smart work environments (Industry 4.0): big data collection and analytics, sensors, cameras, predictive maintenance, production data, quality control, networking, diagnosis, virtual training and process optimization, monitoring, automation, system integration, simulation, cloud services and Apps. DENN machinery is leading in transformative technology, Industrial Internet of Things (IIoT).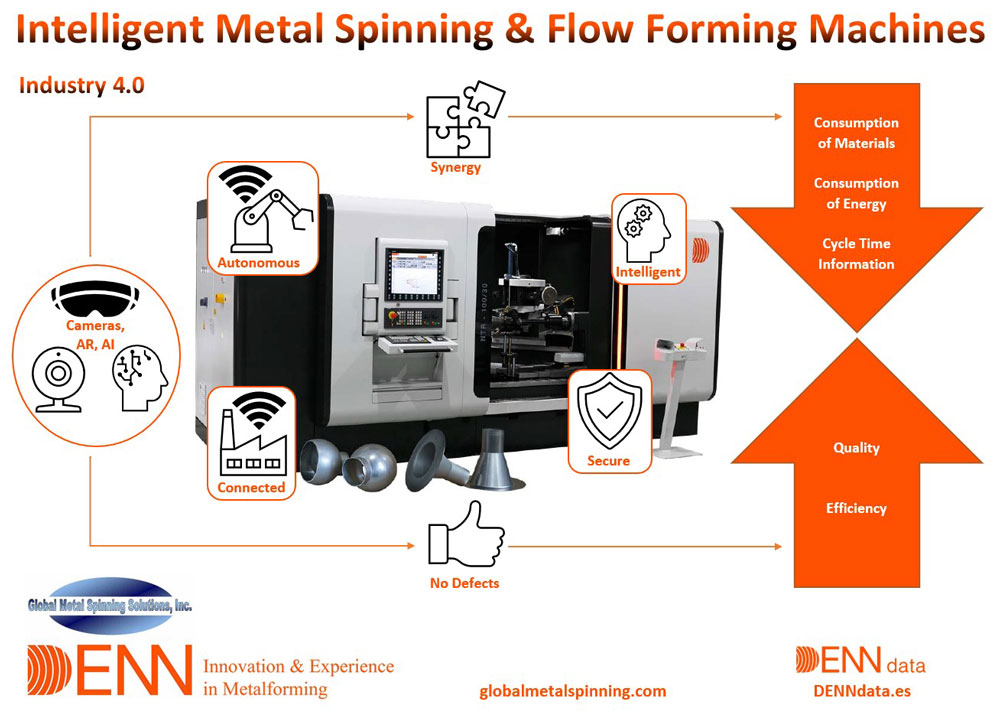 DENN Programming Software
With a user-friendly interface and very successful deployment, the newest version of DENN CAD-CAM keeps up with the new generation of metal forming machines. All DENN CAD-CAM functions are distributed among 5 screens. The navigation between the screens is fast and easy, and both the programmer and the machine operator take full advantage of its graphic software.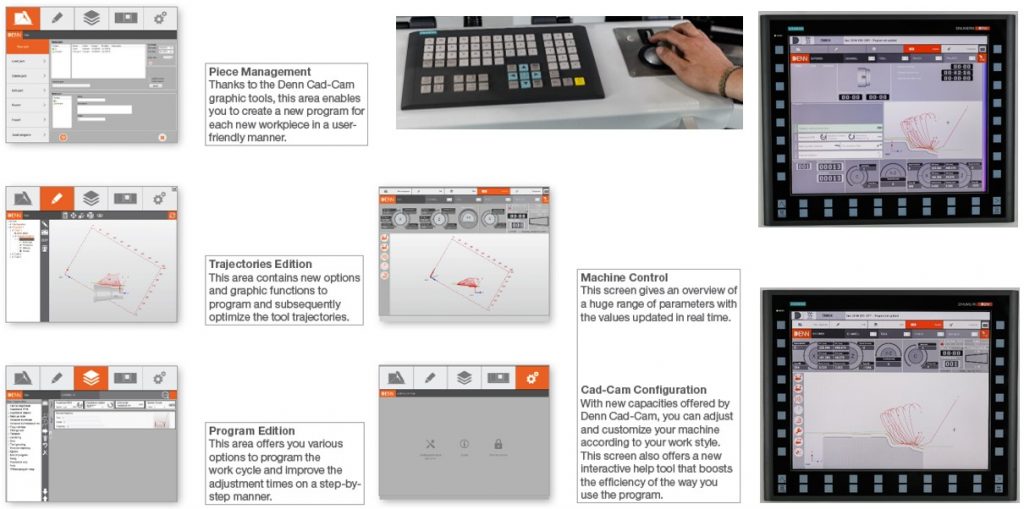 AUTOMATION AND AI @ DENN
Stable and robust parts production
Not dependent on human expertise, integrating artificial intelligence (AI), machine learning, big DATA (aggregate data of machine use)
Cloud computing: build up of intelligence
Machine learning: building AI models by EDGE computing
Intelligent maintenance management
Preventative maintenance sensors and software
Automatic pressure control
Automatic production cells
Automatic mandrel (chuck) contouring
Automatic spin passes generator
Fast setup and changeover: DENN CC
Work area cameras
DENN Trace: complete part data; speed, torque, force, …
Hot spinning temperature control
Preliminary virtual simulations (preview part behavior before real part run, finite elements analysis)
Automatic blank centering device, beading/ trimming devices and tailstock, including double tailstock for more complex parts
Production stats: use, efficiency, cycle times, energy consumption, …
Machine status: vibrations, temperatures, alarms, …
Force model: establish pattern for good parts and set the window for your quality control intelligence
Relevant business data gathering: overall equipment efficiency OEE, minimum cost-effective batch, carbon footprint
VRMS check (your machine against standard benchmark), detailed periodical report (make data driven decisions)
DENN Notifier APP (Data in your hands, wherever, whenever)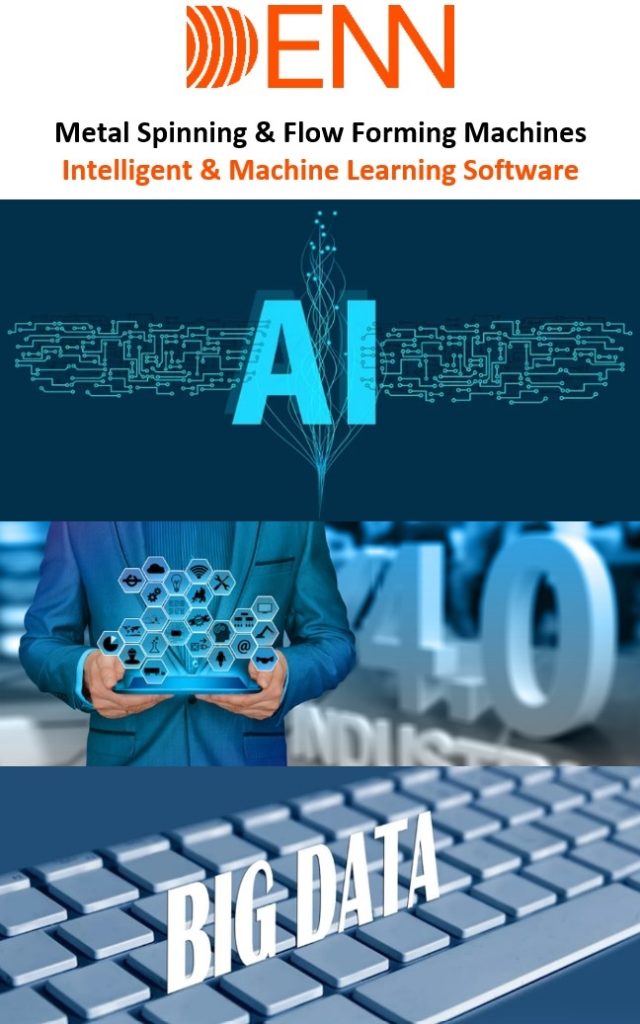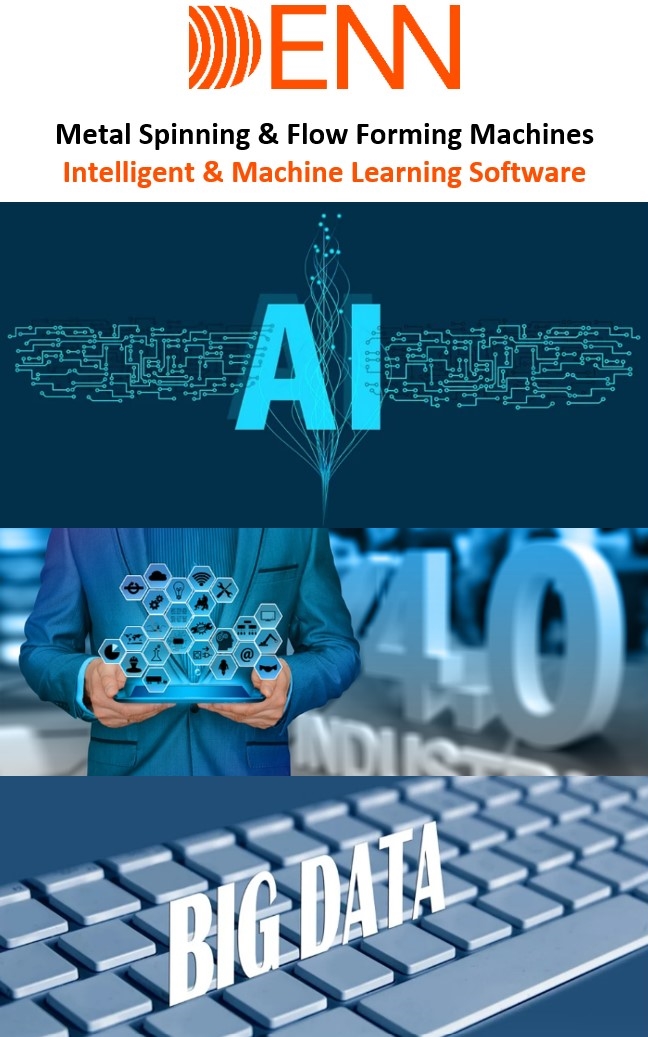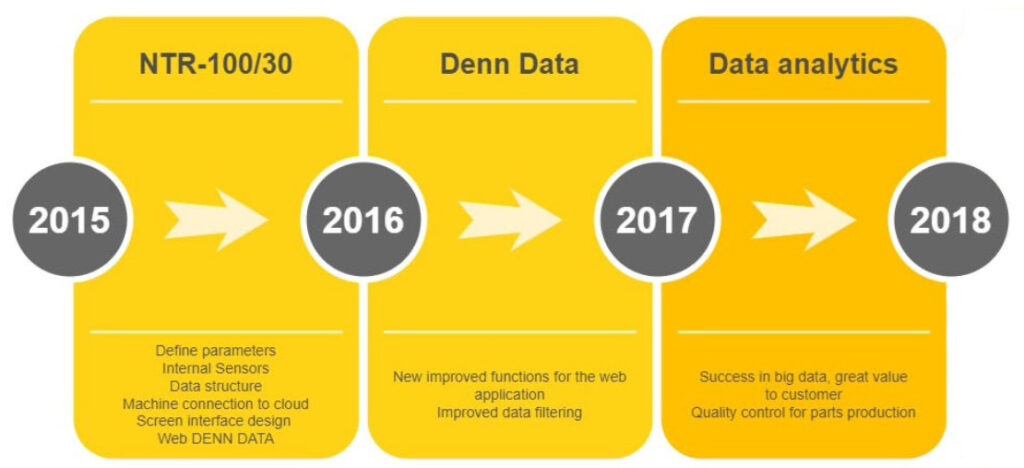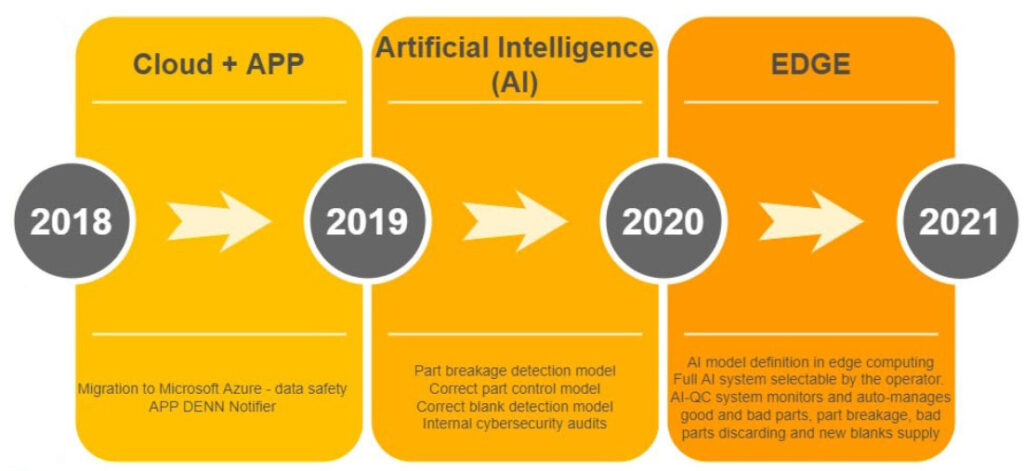 Video: Automation and AI (Artificial Intelligence) at DENN
Metal Spinning Machines "with Brains"
Video: DENN-Artificial Intelligence-Automation-Technologies- metal spinning and flow forming machines
DENN – High Standards for the Metal Spinning & Flow Forming Machinery Industry
Positional Precision & Repeatability
DENN machinery employ electrical driven slide compounds with movement performed by slides and transmission with a servodriven pressure spindle.
Electronic Pressure Control
DENN metal spinning machines come equipped with an integrated electric pressure control. This system can be activated by the programmer/ operator for maintaining constant force rate, for example to avoid adverse effects due to temperature changes.
Surface Finishes & Tight Tolerances
The combination of the innovative and feature-rich DENN CAD-CAM programming software, precise positioning, electronic pressure control and the use of quality components allow our customers to achieve the best possible surface finishes and tight tolerances in the industry.